Cloud Migration Services by Laminar Consulting
For many companies, one of the most pressing concerns about data migration is how it might affect employees, especially if they're customer-facing. After years of use, employees become accustomed to particular CRM or ERP software, even if they aren't perfect tools. But sometimes these systems become far too cumbersome to continue using, necessitating switching to new systems.
In these situations, data or cloud migration is a primary concern. In rare cases, moving the storage or database is sufficient. These are dream scenarios, because employees won't need to get involved—only the developers and system administrators.
Why Businesses Are Migrating To The Cloud
Businesses are adopting cloud migration solutions and moving to the cloud environment because of its scalability, reduced costs, flexibility, and complex security. This has led to many organizations adopting a 100% cloud infrastructure. Still, others may find a mixed model beneficial when retaining on-premise IT infrastructure is a primary concern.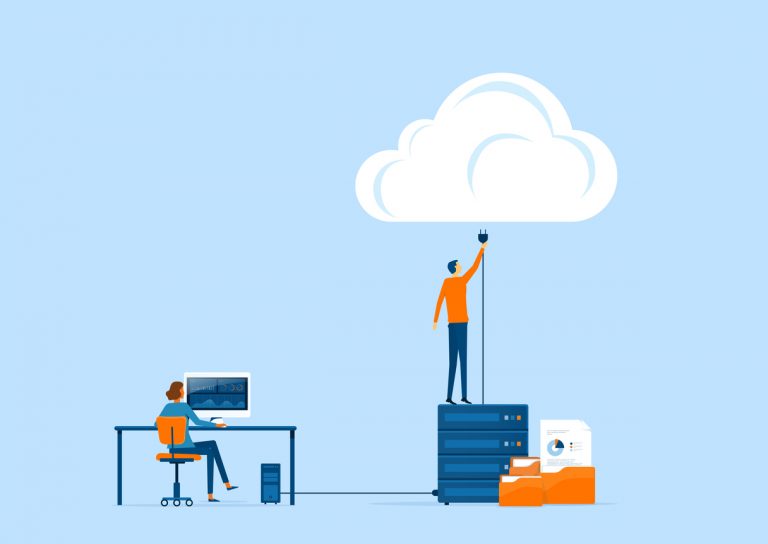 Why Choose Laminar Consulting to migrate to Cloud
The team at Laminar Consulting always clarifies the migration process before we begin migrating data for our clients.
During the migration process, we can move an organization's applications and data to cloud services. We can also migrate a business from one cloud provider to another, for example, moving data from Microsoft Azure to AWS infrastructure.
Successful cloud migration can deliver numerous business benefits. Let's unpack why enterprises are making the move.
Reduced Costs
Nearly 50% of businesses that moved to the cloud reported saving on their IT costs. Our cloud migration consulting services will discuss the cloud migration strategy that is best for your unique situation and returns the best business value.
Cloud migration enables an organization to shed IT hardware in favor of the internet to access computer services, data, and tools. Unlike traditional IT hardware that requires significant up-front costs and skilled IT staff, cloud solutions are set up on a pay-as-you-go basis—you only pay for what you use.
We can also work with Microsoft Azure setups, which can be an affordable, fast, and flexible cloud computing platform for businesses wanting to optimize their data using the power of analytics and machine learning.
Scalability
If growth looms on your horizon then cloud adoption should be a strong consideration in your efforts to optimize your efficiency.
Security
We frequently hear about storing and managing data in the cloud, and the consequences when data is compromised. With data security being at the forefront of most organizations' concerns, our team strives to stay on top of the latest developments in cloud security.
Cloud solutions and technology can provide unparalleled security, reducing the risk of a hack or data breach. For example, over 40% of organizations that undertook AWS migration saw a reduction in yearly security incidents.
Through comprehensive security review, threat detection, and authentication processes, our cloud services provide secure solutions for storing and managing data.
Flexibility and Availability
Remote work is on the rise and expected to double in 2021. Organizations opting for cloud migrations can more easily adapt to rapidly changing workforce distributions.
For organizations that are expanding their brick-and-mortar locations, cloud technology can simplify the scaling process, reducing the need for on-premise IT infrastructure setups at multiple locations. Simply connect to the internet and your workforce has access to the same company's digital resources wherever they are.
For small businesses or start-ups, maximizing resources is paramount. Implementing cloud data systems enables smaller companies to compete with major brands. Consider that cloud computing is 40 times more cost-effective than in-house IT systems for a small organization, and the choice is clear.
Migration Scenarios Laminar Consulting Can Assist With
The right migration plan is crucial because it can affect everyone in the organization, potentially increasing labor costs due to staff needing to learn new systems, risk of data loss, and maintaining efficient workflows across departments.
Cloud migration scenarios can be classified into three different methodologies:
Cutover Migration
With cutover migration, company staff works with the existing system while a whole new one is being developed. Once the new platform is ready, a day is set for cutting off access to the old system and taking the new one live. This can be disruptive to organizations, which is why some refer to this method as the "Big Bang."
Staged Migration services
A staged migration is a more relaxed data migration strategy. With the staged migration method, all users are divided into groups and their accounts are migrated in batches. The first batch—usually power users—often help developers catch any imperfections to have them fixed before adopting the technology across the entire company.
Often, this strategy is used for migrating email accounts, since it rarely matters if everybody in the company uses the same email system or not.
Hybrid Migration
With this migration method, independent features or workflows are isolated and migrated individually. For example, moving a calendar to a new cloud and continuing to use the old provider for email. Sometimes, companies run two systems in parallel, synchronizing the databases to ensure that all employees have access to the same data.
One drawback to the hybrid approach is that it may lead to confusion among end users. Not everyone can keep in mind which system does what and where one should enter new information.