Cutting edge VR and AR Application Development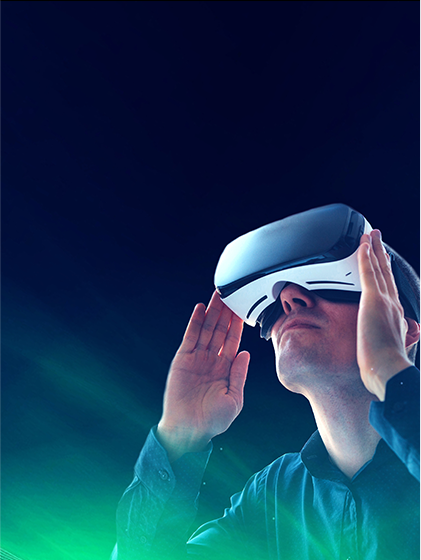 Virtual & Augmented Reality App Development
Our development team has extensive experience in developing user-friendly augmented and virtual reality apps for many different industries. 
Industries that can benefit from VR and AR Apps include:
Automotive

Aerospace

Education

Healthcare

Marketing

Retail
The main goal of augmented and virtual reality development is providing the best user experience, and Laminar's development team always makes this a top priority.
Virtual & Augmented Reality Services
Laminar Consulting develops beautiful, user-friendly applications for virtual, augmented, and mixed reality. Our cutting-edge development tools and our ability to gain a deep understanding of our client's requirements enable us to deliver AR and VR solutions that exceed our clients' expectations. We build AR/VR apps for everything from smartphones (both Android and iOS) to tablets to hybrid laptops.
AR and VR Expertise
Laminar leverages an extensive set of tools for developing AR and VR apps, including OpenCV, Vuforia, ARKit, Wikitude, EasyAR, ARToolKit, ARCore, and more. Our team has the experience to develop an AR or VR framework that's perfectly aligned with your particular objectives. Laminar will work to develop a solution that nails your business needs on the head every time.
Augmented Reality
Laminar Consulting creates highly engaging augmented reality apps for numerous types of companies, from start-up to enterprise-level. Laminar's experience spans a wide range of augmented reality apps, including various educational and entertainment AR apps.
Virtual Reality
Laminar develops virtual reality solutions for realistic and collaborative scenarios that can boost sales through a vastly enhanced buying experience. We build custom 3D models for just about any field, such as healthcare, aerospace, education, automotive, travel, e-commerce, and more.
Mixed Reality
Our app development experience with building mixed reality empowers us to build solutions that can provide a real-time view of end-user surroundings with a digital overlay of virtual objects for visualizing the post-purchase experience or learning new skills as an employee. Whether the challenge is consumer-facing or enterprise, Laminar can build a solution for your company.
GET IN TOUCH FOR A FREE CONSULTATION
We partner with the leaders of Technology & Digital platforms to create the best possible solutions designed by industry proven professionals.
VR & AR App Development FAQ
GET IN TOUCH FOR A FREE CONSULTATION