UI/UX Development Services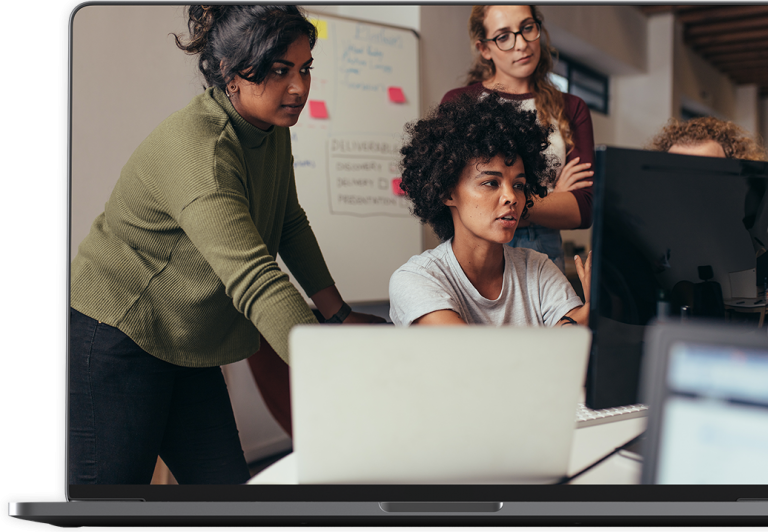 UI/UX developers are responsible for integrating principles of interactive and visual design for applications to achieve a cohesive, effective, and efficient user experience. This development relies on HTML, CSS, and other design tools to create responsive, user-friendly software interfaces that make getting desired results simple and intuitive.
At Laminar, we seek to optimize the user experience of whatever software application we develop. With efficient and intuitive UI and UX, it's easier to create better workflows that not only are less frustrating, but can even be enjoyable to use. 
UI Concept Creation
To fully understand how users will interact with software in real-world use cases, creating concepts of user interfaces can provide valuable feedback about how the application will truly be utilized to carry out tasks and produce desired outcomes. 
We can help refine the UI of your software by creating concepts for real-world user testing, ensuring you get the best outcomes when you deploy it across your organization.
Web User Interface Development
Sometimes applications are best deployed in a web browser environment. Whether your software is being developed for desktop web, mobile web, or a mobile app, user interface design is always a key consideration as we are building your solution. The UI/UX design process is an integral part of the software development cycle.
Mobile App UI Development
UI development is crucial to the success of any mobile app, whether it's for internal use only or sold to the general public as a SaaS. We always ensure the UI design of mobile apps we develop is one of the primary focuses during the development process. 
UX/UI Development Services for Cross-platform Apps
By leveraging cross-platform development approaches, your company is enabled to deploy software across various platforms, including mobile web, desktop, or mobile apps. Cross-platform development allows a single piece of software to be used regardless of the platform users are running the software on, such as iOS or Android.
Desktop App UI Design and Development
Most web-based apps look identical on either Mac or Windows platforms, while apps installed locally on desktop computers can look and feel different on a Mac than a Windows computer. 
Desktop software on Mac desktops is subject to macOS Human Interface Guidelines. These guidelines by Apple specify what UI elements designers should use for specific user interactions to ensure a uniform experience for the end-user. For example, common UI elements like dialogs, popovers, and help tags are not entirely customizable for Mac systems.
Conversely, on Windows systems, UI elements are entirely customizable, affording designers more freedom with styles much in the same way web apps do. That said, good designers will still double-check to ensure their UIs follow standard UI patterns from the Universal Windows Platform guidelines to avoid confusing users.
GET IN TOUCH FOR A FREE CONSULTATION
We partner with the leaders of Technology & Digital platforms to create the best possible solutions designed by industry proven professionals.
Frequently Asked Questions
GET IN TOUCH FOR A FREE CONSULTATION